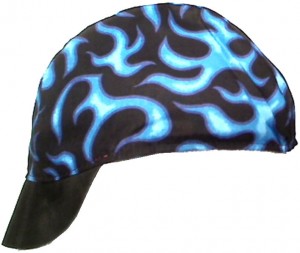 Are you looking for something to keep your hair under control? How about something to wear under your helmet? Welder caps have become popular among bikers for several reasons, including the fact that they fit snugly under helmets and provide a good amount of protection from the sun. In fact, many people wear the hat backwards with the leather bill covering the back of their neck. The Cheap Place has a number of different welder caps for sale, including the eye-catching Blue Tribal Welder Cap.
A lot of the other welder caps are mostly dark colors and don't stand out, but this one certainly does. The tribal designs are done in an electric blue. If you want a brightly covered cap, this is the one for you. Of course, all the welder caps on The Cheap Place are reversible. If you order a small or medium, this cap reverses to a print of the U.S. flag. If you order a large or extra-large (for those with a head circumference of over 24 inches), you can reverse the blue tribal symbols to a print of the U.S. flag with gold stars and gold eagles.
In addition to being reversible, all welder caps feature a real leather suede bill that's very flexible. They're made of stretch cotton and feature elastic fitting in the front. This elastic ensures that the hat fits snuggly on your head, even if it's a bit too large.